It's been months since Covid-19 struck our world. The last few months have been harsh on almost each and every one of us out there.   Almost all the industries have fallen prey to this ongoing pandemic, especially the real estate sector.  As soon as Covid-19 struck, most home-sellers worldwide took their listings off their local real estate market. At the same time, some homebuyers canceled their homebuying plans.  We've been months into the pandemic, and as economies worldwide have taken massive hits, countries have started laying off the restrictions.
Now that some restrictions have been laid off, now is the time you can put your listings back on your local real estate market if you are planning on selling your house fast.  But if you do, my advice would be to take the necessary precautions to protect yourself and your loved ones.  Or you could either reach out to a "We Buy Homes" company and receive an all-cash offer for ease.  Sounds promising, doesn't it?
But, which option should you go with?
Should you go through that tedious and long-lasting traditional home-selling process? Or would you be comfortable with receiving an all-cash offer quickly?  Let's have a look.
All-Cash Offer
This, right here, is my favorite option and the top one on the list.  That's because it's just so simple and quick.  All you need to do is contact a trusted "We Buy Homes" company in Jacksonville like us, and as soon as you get in touch with them, they will soon head over to your property, analyze it and send you a fair all-cash offer for your home.  But, before you contact a "We Buy Homes" company, my advice would be to check their rating on Better Business Bureau and know all the ins and outs of their business.
Opendoor
Opendoor is another option that I like, and it has become quite a buzz in the real estate sector. It's a one-stop-shop for selling and buying real estate. They have advertisements almost everywhere, from radio to television to social media, almost everywhere.  In addition to this, they have been featured in major publications like The New York Times, Forbes, WSJ, etc.  While it has its own set of advantages, there are some downsides to dealing with Opendoor.  Sometimes, you might receive an offer that's way below your home's market value.  And just like most online iBuyers, they charge you "junk fees" of 5% and require you to make costly repairs that they back out of their offer.
Zillow Offer
Zillow, the real estate giant, launched Zillow Offer back in 2018, and since then, it has become one of the largest iBuyer.  But the thing about Zillow Offer that I don't personally like is its high-end commission fees, i.e., 6% of the total selling costs and service charge, i.e., 2.5% of the total selling costs.  That's a lot you'll be throwing out of your pockets.
List Your Property with a Realtor
You can go a long way and list your property on the Jacksonville real estate market with a realtor.  While most home-sellers go with this option, it's a long, time-consuming, and tedious process for home-sellers.  You may end up waiting for months before you receive an offer and that is one way you will not sell your house fast.  On top of this, if you don't price the home right, then you might not even get a single offer for your Jacksonville house.  So, if you are planning on selling your house fast, then this option might not be for you.  However, yellowbird has the best real estate agents to make sure these downside risks are mitigated.
Conclusion
Jacksonville's one of the most popular areas in Florida, and the best thing about the place is that it's constantly evolving.
Home prices have always been historically high. Most importantly, this pandemic hasn't had a major impact on the home prices in Jacksonville.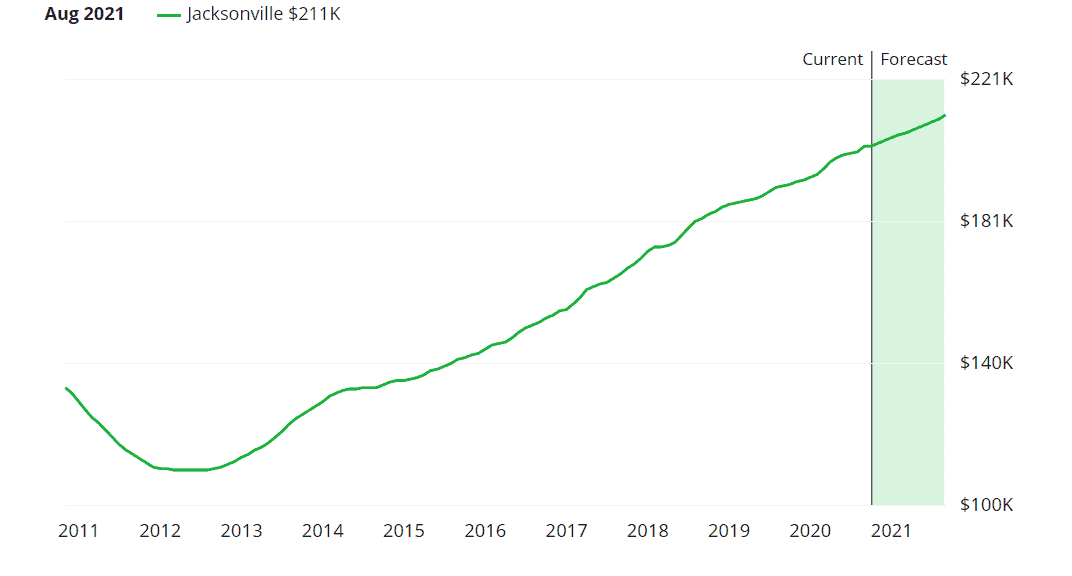 So, you will definitely get a good price for your Jacksonville house with ease.  We are one of the leading homebuyers in all of Jacksonville, Florida, and we'd love nothing more than sending you a fair all-cash offer for your Jacksonville home.  If you are planning to sell your Jacksonville house, contact us today.